Ever since I was a kid and watched Raiders of the Lost Ark for the first time, I dreamed of seeing the Great Pyramids and discovering what mysterious ancient treasures were hidden inside of them. *Spoiler alert: It was nothing. But, despite this mind-blowing realization, I still regard Egypt, and Giza in particular, as one of my top 10 favorite destinations of all time.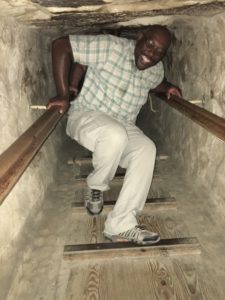 Based on the city's stunning views and lush, rich history alone, it remains a strong and worthy contender for other bucket list locales. Fortunately, Missy and I had the chance to stay within a short walking distance of the pyramids and where able to view the nightly music and light show — some tourists pay top dollar for — right from the comfort of our hotel room balcony.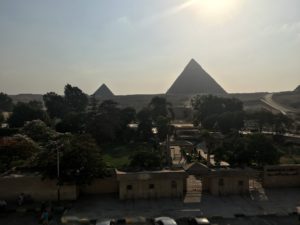 Overall, we're glad we had a chance to stay so close to the Pyramids. It was definitely a once-in-a-lifetime experience for us, but if given the chance again, we'd probably opt to stay in Cairo and take a half-day tour to Giza. There was just some 'surprises' that came along within our stay in Giza we didn't care for. One of them being giant cockroaches the size of scarab beetles from The Mummy in 1999. The other being all the armed guards and zoned checkpoints we had to cross in order to enter and exit Giza's various neighborhoods.
But, if neither of those things are a real deal breaker for you, then, by all means, go to the "Where we stayed" section of this page.