After landing in Marrakech and going through Customs (which wasn't difficult), we were greeted by our first driver/guide (Hussein) who was holding a sign with our name on it. From the airport, our driver/guide drove us to the Atlas Mountains region of Sti Fadma.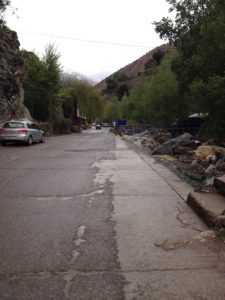 Along the way, we got a chance to stop and go inside an actual Berber home. We were able to take pictures, see how a traditional Moroccan flat bread called "naan" was prepared and even sampled some along with Moroccan oils that looked like olive oil.
Next, we were taken to a small town. It was there we went inside a crafts shop where the town's women made and sold essential oils and soaps to stimulate their local economy. We also watched them grind nuts by hand to make Moroccan nut oil and fresh nut butter.
After that, we met our second guide (Mohammad). We then followed him on a short walk through town before we began our long and treacherous  hike up the Atlas Mountains.
To his credit, our new guide was extremely knowledgeable about the area and its people. He was also very patient (even though our group climbed at different speeds) and took great care of us.
After our hike, we rejoined our driver and had lunch at a little restaurant in Sti Fadma that wasn't far from the hiking trail.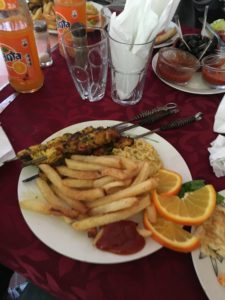 Once we were finished, our driver dropped us off at our hotel in Marrakech.