Thankfully, there are lots of ways to get around Buenos Aires.
You can travel by urban or public bus ( called "Colectivos") using a series of Argentine bus lines, subway, taxi, Uber or hire a private transfer service (more on this later).
Typically, I like to go by public bus or train whenever I travel to a new place. Why? I like the cost savings and being able to experience how locals get around. Missy, on the other hand, prefers to take Ubers or use rideshare apps. This time around though, we both opted to pre-book a private transfer service to take us from Ezeiza International Airport (EZE) to our hotel in Buenos Aires. Our main reason for doing so was that some of the travel sites we researched commented how traveling by city bus from the airport could be long, confusing and sometimes dangerous. Other sites advised that trying to get an Uber from the airport could be just as difficult, as many local taxi drivers have been known to be violent toward rideshare drivers who pick up passengers at the airport. Given we had never been to Argentina before, we didn't want to test our luck and find out the hard way, so that's why we went with a good, old fashioned transfer service. 
As luck would have it, we easily scored a low round-trip fare of $59.74 (or $29.87 for 2 people and 4 pieces of luggage) by using Booking.com's Airport Taxi feature on their website. Then, we were off to the races!
How did it go? Well…we're happy to report that the day we were scheduled to arrive in Buenos Aires, our driver contacted us several times via WhatsApp to confirm our flight info. He also sent us detailed photos of where he was located in the airport and that he was holding a sign with our name on it. Once we cleared the Border Patrol area, we immediately saw him and he whisked away to our hotel, which was located about an hour away from the airport.
However, our next challenge was finding a way to get from our hotel to the cruise terminal. Our first thought was to simply walk there from our hotel, since it was so close. But, everything we read online mentioned the cruise terminal area was "not safe" to walk, only to taxi or be dropped-off by vehicle. Normally, we would have taken these sites at their word. But, given all the nice photos we'd seen of the area, we wanted to explore things for ourselves before making any snap judgment. Therefore, Missy came up with the brilliant idea that since we arrived a day before our sail date, we should just leave our bags at the hotel and walk over to the cruise terminal to see if it felt "safe". (Genius!) So, that's what we did. After checking into our hotel, we dropped off our bags, walked to a local steakhouse for an early lunch and then headed over to Benito Quinquela Martin Cruise Terminal.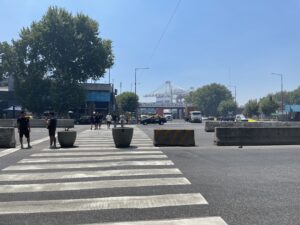 Based on our walk there, the area seemed pretty safe.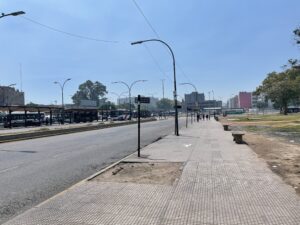 There was sidewalks and pedestrian bridges.
There were also lots of people walking around, just like we were. There was even a security camera posted at many of the stoplights we passed which were monitored by local law enforcement. 
So, if you're staying near the terminal, is walking there feasible?
Yes and no.
In our experience, the Puerto Madero area of Buenos Aires seemed perfectly safe to walk along, especially in broad daylight. However, if you have a lot of luggage with you, or you are carrying heavy bags, walking is probably not a reasonable option.
For those of you who like to take 30 min. strolls, and who only have simple backpacks to carry, this is a great way to avoid having to pay for a taxi, bus or transfer service.
Final Cost Breakdown on Transportation:
$32.07 for a 2-person transfer from Ezeiza International Airport (EZE) to our hotel (in Buenos Aires). 
$27.67 for a 2-person return transfer from our hotel (in Buenos Aires) to Ezeiza International Airport (EZE).