There's no doubt with things starting to get back to "normal" again, a lot of you have decided to travel again. In all fairness, so have we. But, when considering whether or not you should take a cruise when Covid cases are still so prevalent, you may find yourself on the fence about the issue. You may wonder, is it safe? Or, is it foolish to go floating around at sea in an enclosed environment with hundreds or even thousands of people for several days?
Obviously, these are valid concerns. And I'm not going to tell you what the right answer is for you. Instead, this post will only touch on Missy's and my experience on the topic.
Since the start of the pandemic, like many of you, we both missed international travel. Before 2020, we had always prided ourselves on exploring the world on a budget. Many of our exploits involved good old-fashion cruising over flying. In fact, from the late 90's to then, we had sailed with almost 7 cruise lines (MSC would've been the 7th, but the pandemic happened). To us, it just made sense. There was no better way to visit as many destinations in one trip for such a low price. Well, that was until we discovered bus travel in Europe, but that's a story for another time. The main takeaway here is that cruising has been crucial for us for decades. So, once this option became available again, we seriously had to consider it.
Long story short, not only did we go on a cruise, but we also brought along our two adult-age kids and their friends. The following is a quick summary of this trip.
First off, just to dip our toe into cruising again, we decided to book a relatively short cruise through Carnival for 3 nights. It left from Long Beach, offered a day at sea and stopped in Ensenada (where we used to live) before returning to Long Beach. Since it was only 3 nights AND it's still a worldwide pandemic, we sprung for balcony cabins for everyone. In our minds, it sounded a little safer than being stuck in a window or interior cabin.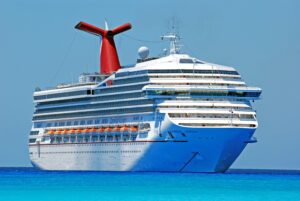 Our first impression of Carnival's safety protocols leading up to the cruise gave us confidence. We liked the way they required us to be fully vaccinated and provide them proof of this. I also opted to use the VeriFLY app they recommended which helped me keep track of what was required at the cruise port on embarkation day and what I still needed to obtain in order to board. Off the top of my head, the app required a photo of each passenger against a white or neutral background, your response to several Covid-related questions, proof of Covid vaccinations and proof of a negative Covid test that's dated at least 2-3 days before sailing. 
Regarding the latter, we purchased special 'approved' home antigen tests from Inspire Diagnostics about a month before the cruise, registered our 'party' and joined their "walk-in" room a couple days prior to our sail date by clicking on the "walk-in" room link included in the original order confirmation email we received.
From there, the link took us to a Zoom waiting area, where a medical proctor watched us administer the home tests ourselves. Once our results showed up on the tests, we were told to wait an additional 10 minutes, then we were sent an official email by the proctor which displayed our negative test results. This is what I later submitted to the VeriFLY app. After the app reviewed our documents, we were cleared and deemed "Ready to Sail". 
Naturally, I was a little skeptical about this, but on embarkation day, the boarding agents asked to see our VeriFLY status on my phone and we were able to simply show them the app and no further Covid-related proof was needed on our part. That was a huge win and a nice timesaver! 
If you're cruising with Carnival, just be sure you bring your normal boarding passes, passports and/or birth certificates, etc. as these items are still required and necessary to board. Case and point, our son Kam forgot to bring his passport and we almost had to bust an overnight road trip from Los Angeles to Sacramento to get it! Fortunately, Missy had ordered a duplicate copy of his birth certificate years ago and we were able to use that to board. (Whew!)
The boarding process itself didn't take long, once passengers were allowed to board. Since we're Platinum-level on Carnival, we automatically get early boarding, but during their online check-in, they require 'everyone' to choose an arrival time for the cruise terminal. That way, the boarding process is more efficient on embarkation day and there isn't a huge influx of passengers occupying a small, enclosed area.
Anyway, in all honesty, our opinion regarding Covid safety once we were on board is that there seemed to be a very relaxed mindset from Carnival staff and especially guests. Overall, the crew wore masks, but many passengers didn't. Also, we were a little surprised by the utter lack of hand sanitizing dispensers around the ship, expressly in the dining areas. Before the pandemic, we noticed that staff would require you to use hand sanitizer before even entering a restaurant. Yet, on this cruise, we were lucky if we could find a place to score some. It was truly baffling. And finally, we were also shocked to learn that guests were still allowed to serve themselves in many onboard restaurants by touching various serving utensils.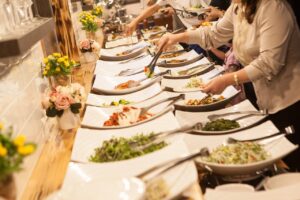 However, despite these concerns, Missy and I still had a good time onboard. Our kids and their friends did as well. It really felt good to sail again and reclaim some semblance of 'normal'. I will say, I did wind up testing positive for Covid a week later, but thankfully, no one else in our traveling party did. All in all, I chock it up to being a little too lax myself in certain spaces onboard and not wearing my mask enough around large groups. But, even though I contracted Covid from cruising, the question remains…would I do it again?
The simple answer is…YES! 
In fact, Missy and I currently have two more cruises booked, one of which will be heading to Antarctica in February of 2023. In our experience, nothing is 100% safe. There are risks involved with everything and 'every' mode of transportation. Cruising is no different. Going forward, we plan to be more cognizant of what we do onboard and that we're making safer decisions, but the threat of Covid isn't going to stop us from exploring the world on a budget.
We'll just have to remember to keep masking up along the way. : )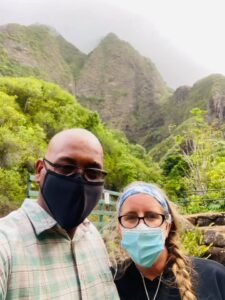 What about you?
What are your thoughts on cruising right now? Have you gone on a cruise lately? If so, how did it go?
We'd loved to hear your thoughts! Please take a moment to leave your comments below.