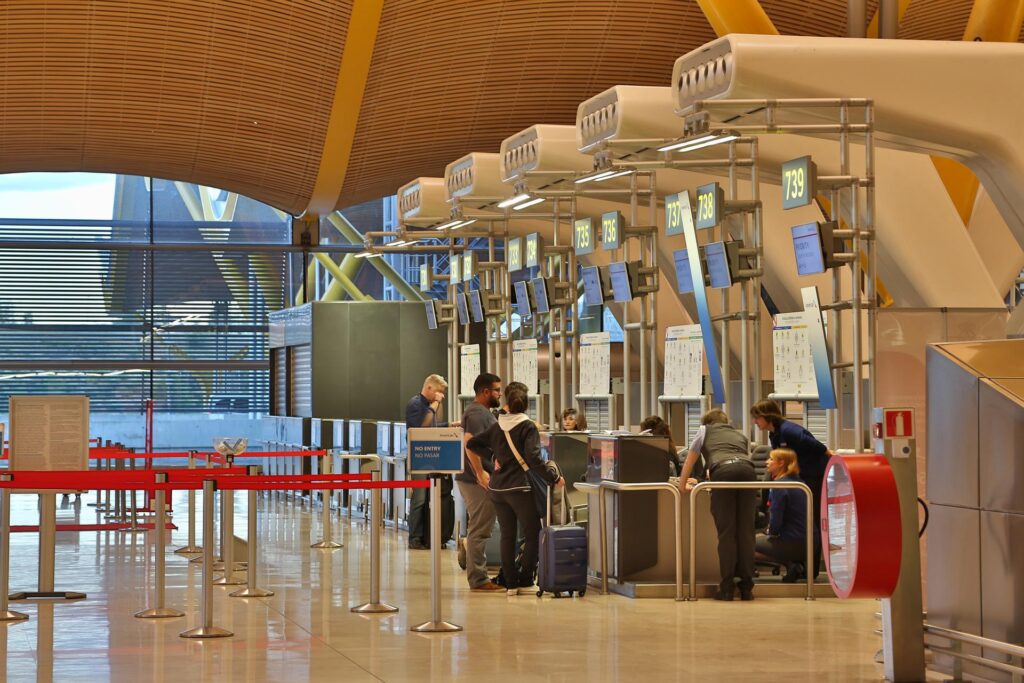 With it being the 21st century, Missy and I encounter folks all the time who are shocked we still purchase some of our airline tickets at the airport. It doesn't surprise us really. In this day and age, there are many people who are unaware that if you plan to fly with ultra-low cost airlines like Frontier, Allegiant and Spirit (until it's acquired by Jet Blue anyway), you can actually save money by purchasing your tickets at the airport. That's right, that's not a typo. We said, "the airport".
A word to wise however, depending on the airline and destination, the amount of this 'usage' fee can vary. As of September 2022, you can still figure out how much it's going to be on Allegiant and Frontier by going to their sites, pretending as if you're going to book your flight and clicking on the flight total in your shopping cart. You may have to click on "Airline Fees" or the [+] button next to "Taxes and Carrier Imposed Fees", but the crafty little fee should be listed among all the others. 
In general, here's how it works…whenever you choose to go with one of the above airlines by purchasing your tickets on their website, they charge you a fee for doing so. This fee has various names like "Passenger Usage Fee", "Carrier Usage Charge" or "Carrier Interface Charge", but make no mistake, whatever they're calling it, it's a fee for using their website to buy your tickets. Sound illegal? Well, it's not… just as long as the airline carrier provides a way for the customer to bypass this extraneous fee. So, whenever you go to the airline's ticket counter at the airport and purchase your tickets, by law, it should not include the charge for using their website.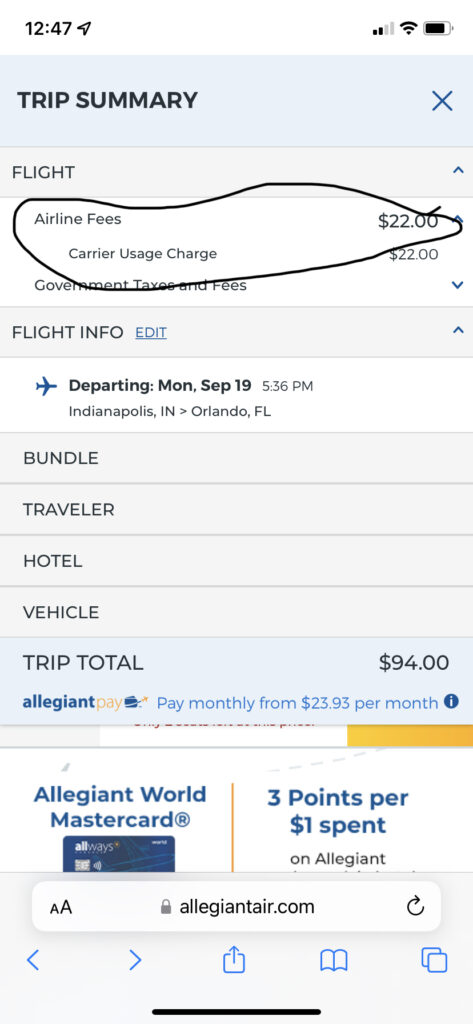 One other thing to note. Unfortunately, Spirit Airlines started hiding their carrier fee information around 4-5 years ago. Though, they do state the following on their website when you click on "Taxes and Fees": "A non-refundable Passenger Usage Charge of $22.99 per segment per traveling customer applies to most reservations. A lower fee may apply to certain discount fares. No fee applies to bookings completed at Spirit Airlines' domestic airport locations."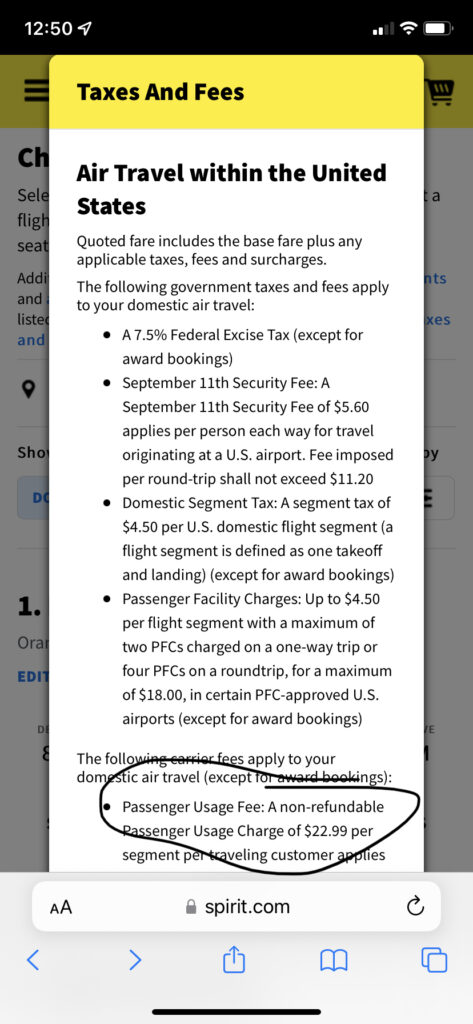 Over the years, Missy and I have had considerable savings by buying our tickets at the airport. Off the top of my head, we only paid a total of $270 for the two of us to fly round-trip from Indianapolis (IND) to Fort Lauderdale (FLL) in January of 2020 on Allegiant. That doesn't even count how much we saved on our round-trip tickets from FLL to Lima, Peru (LIM) using Spirit. Aside from that trip, back in December of 2020, I only paid around $25 to fly round-trip from IND to Orlando (MCO) on Frontier. Sure, it was still the height of the pandemic back then, but just this last week alone I could've bought the same round-trip flight on Frontier for early December of 2022 at a price point of $39 (which is the total cost after you remove the dreaded carrier 'usage' fee). So, if you have easy access to an airport to buy tickets, it may behoove you to consider this option.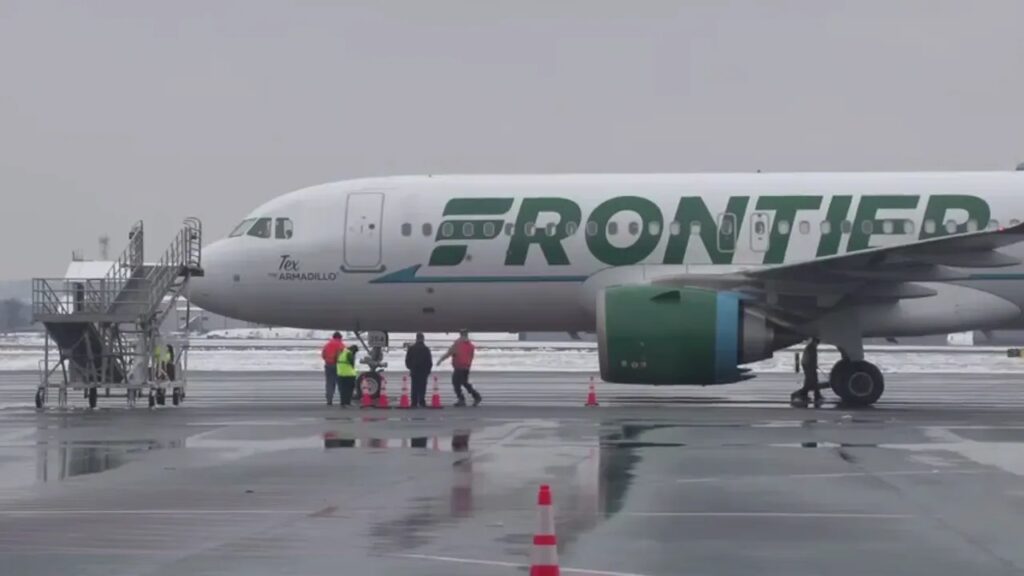 Another great perk is, sometimes at the airport, ticket agents may give you a free assigned window or aisle seat if they're in a good mood. (Depending on the route, that can be a significant savings in and of itself!) This has happened for us a few times, especially with Frontier. Keep in mind, we never 'ask' for this perk or expect it. We just make sure we have all of our flight/passenger info written down or typed out on our phone and ready to hand over to the ticket agent for them to use. We are also very polite and respectful when speaking with them. Usually, if we do either one of these things, the agents are pretty grateful that we're trying to make things easier for them.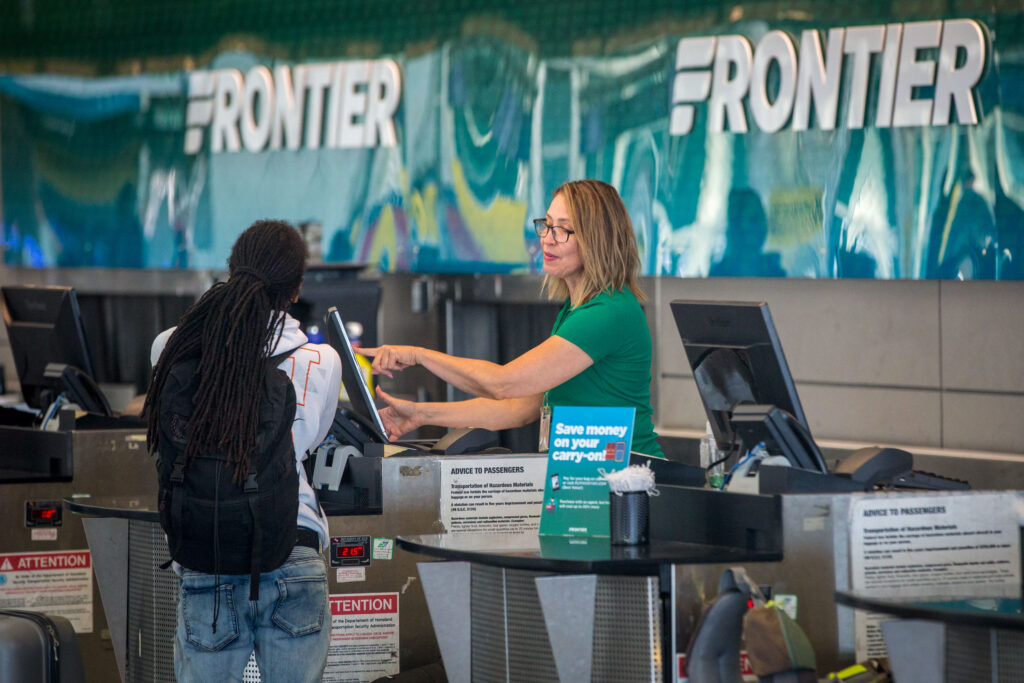 Make no mistake though, buying your tickets at the airport is not always a fast or smooth process. Ticket counters typically open 2 hours before a scheduled flight for bag drop-offs, so the line to get to the counter can be long and arduous, especially if it's around a holiday and/or the agents are severely understaffed. This very situation happened to us at Ontario Airport (in California) over Labor Day weekend.
That brings us to our Tightwad Tip for this article: When you're in line, be patient or try going to the ticket counter when it's a less busier time at the airport — like during a weekday vs. a weekend. Also, it may work out better for you (especially if you wanna score those free seat assignments!) if you have an agent's full and undivided attention once it's you're turn to be helped, so choose the time to buy your tickets wisely.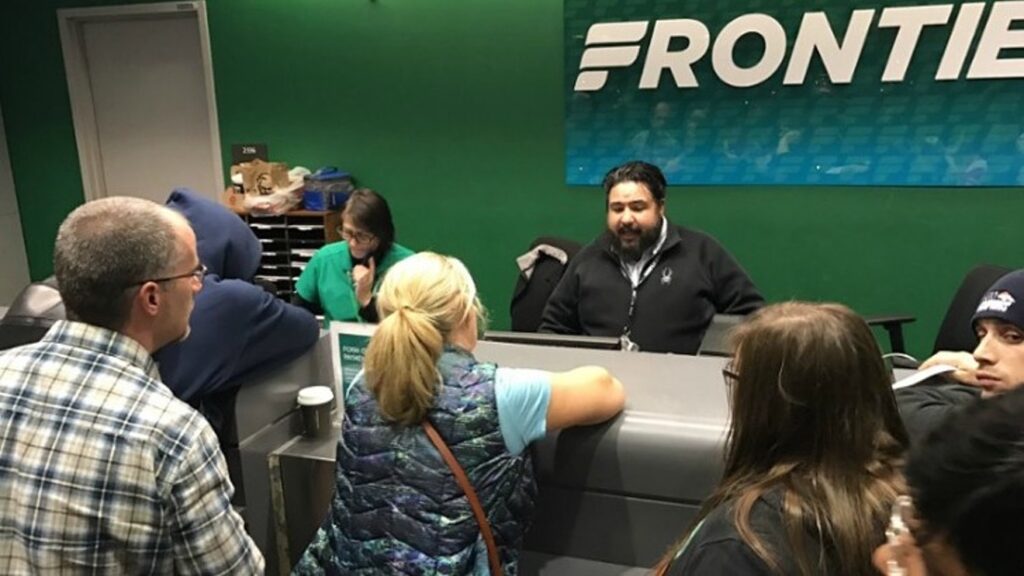 One method Missy and I use to figure out when an airline's ticket counter will be open is by going to flightstats.com, clicking "ADVANCED SEARCH" and using their "Search by Airport or Route" search fields to select the closest airport near us and the specific airline we wish to purchase tickets from. Then, we can enter the date and time to see what flights are departing from that airport. As long as we arrive at the airport 2 hours before each listed departure time, the ticket counter should be open for us to buy airline tickets for future flights.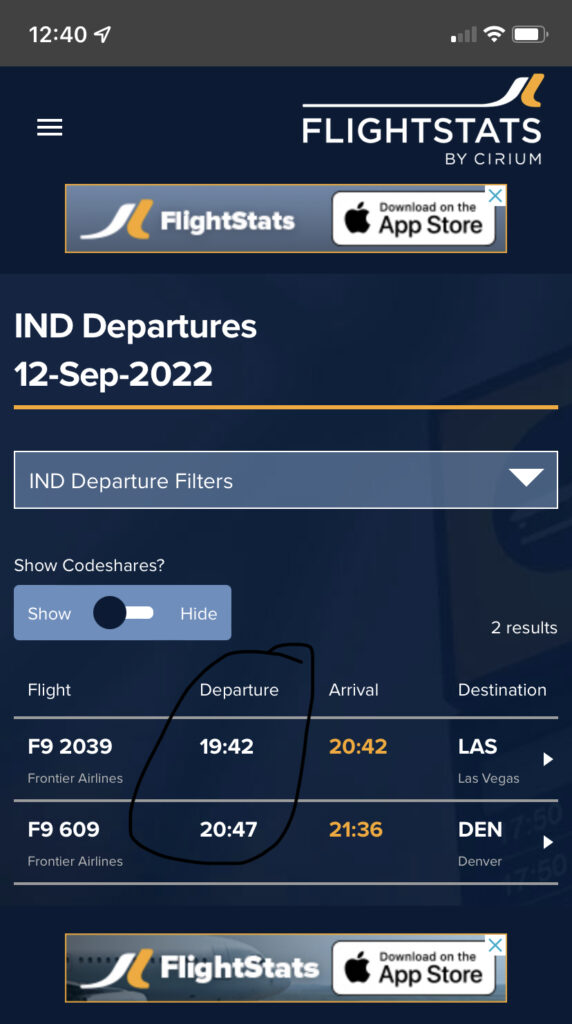 If done correctly, buying your tickets at the airport can be a great life hack. But, if you're not interested in flying on Frontier, Allegiant or Spirit, you shouldn't go out of your way to use their airlines. Flying with them is not for everyone. There is definitely a reason they are considered "ultra-low cost or no-frills carriers". Much of it has to do with being nickel and dimed for things like assigned seating, baggage fees, snacks and the inability to get a free cup of water during a 5-hour flight. So, if you want luxury and comfort, look elsewhere. But, if you just wanna get to a destination and save a few bucks along the way, then these 3 airlines might be a good option for you. Just remember…if you decide to fly with any of these companies, skip buying tickets online and go straight to the airport ticket counter instead.
What are your thoughts on buying airline tickets at the airport to save money? Have you done this before? If so, how did it go?
We'd loved to hear your thoughts! Please take a moment to leave your comments below.